Today the Private Healthcare Information Network (PHIN) will publish initial performance measures for over 1,000 consultants working across private healthcare in the UK.
PHIN publishes the first performance measures for 1,000 leading consultants, as 4,000 more work towards publication in UK's largest clinical data validation exercise?
London, Thursday 13 September 2018: Today the Private Healthcare Information Network (PHIN) will publish initial performance measures for over 1,000 consultants working across private healthcare in the UK.
Altogether 5,000 consultants, collectively undertaking an estimated 50% of admitted private healthcare in the UK, have been actively involved in working with PHIN and hospitals to check data on their private practice and improve data quality. With over 1,000 consultants completing the process by approving their performance measures for publication on PHIN's website, there is now more validated information about individual consultants available in the public domain than ever before for people considering private healthcare.
The move follows a market investigation by the Competition and Markets Authority which required more information to be made public on the performance of private hospitals and consultants.
Chair of the Private Healthcare Information Network, Dr Andrew Vallance-Owen, said, "Over the past few years there has been a noticeable, positive shift from the medical profession towards embracing transparency. We would like to thank those consultants who are at the forefront of this transformation. We have had excellent support and input from the leaders of various specialty associations, and in many cases those professional leaders are among the first consultants who have approved their data for publication. We hope that this will provide strong encouragement for other senior doctors to also review and approve their data, working with the hospitals at which they practice to improve the quality of data where necessary."
With over 750,000 episodes of care delivered on a private basis each year, PHIN is undertaking the largest data validation exercise directly involving consultants across the UK. It will take time for private healthcare data to mature, and PHIN will continue to work with hospitals, consultants and specialty associations to improve data reporting, allowing more consultants to publish their measures and improve the information available on quality and safety in private healthcare.
The announcement today comes following recent calls for greater transparency, data quality and improved patient safety in private healthcare from leading organisations including the Royal College of Surgeons (RCS).
Professor Derek Alderson, President of the RCS, said "We welcome the news coming from PHIN today as an important step for ensuring greater transparency about the activity consultants are undertaking in their private practice. That over 1,000 consultants have volunteered to publish information about the care they provide shows the commitment the profession has to improving patient safety and reducing risk. We encourage all our members to follow this lead and engage with PHIN."
The consultants now live on PHIN's website represent a broad range of specialties. Reflecting the wider market, orthopaedic surgeons make up the largest number live on the website, at around 30%. General surgeons and ophthalmologists are also among the most prevalent on the PHIN's website.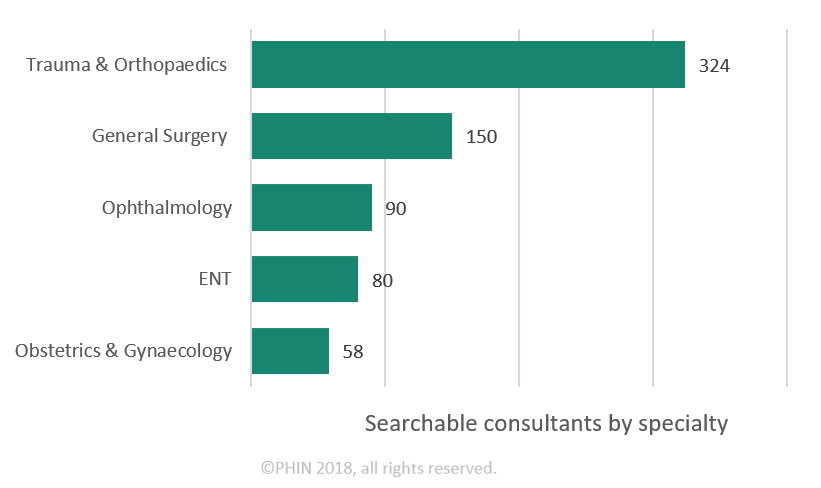 The measures published by PHIN today are the number of patients that each consultant treats by procedure, along with their average length of stay. These are the first of up to 11 measures that PHIN is required to publish under their mandate from the Competition & Markets Authority. Adam Land, Senior Director at the Competition and Markets Authority, said
"It is vital that people choosing private healthcare should have all the information they need before deciding on the best treatment for them. That's why we investigated the sector and insisted that the performance of hospitals and consultants should be available to patients. With information on over 1,000 consultants performance now available, PHIN's publication marks an important step along the road to greater transparency in private healthcare."
Adam Land
In 2019 PHIN will begin publishing information on the fees that consultants charge for common procedures in their private practice.